Dog Groomer in Spokane Valley, WA
At Unleashed Academy, our dog groomers believe that every furry friend deserves the top dog grooming experience. Our team of professionals is dedicated to providing exceptional care and grooming services for your beloved pup. Whether your dog needs a full-service groom or just a touch-up and a nail trim, we promise to treat them with the love and respect they deserve.
We know how important your pup is to you!
When your canine companion comes to our grooming salon, they will be given the top dog experience!
Whether a full-service groom or just a touch-up and a nail trim, our team of professionals will treat your dog with respect and provide them with the best experience possible.
Our full-service grooming package is designed to pamper your furry friend from head to paw. Our experienced groomers will give your dog a luxurious bath, using high-quality products that are gentle on their skin and coat. We will then carefully groom their fur, ensuring they look and feel their best. From breed-specific cuts to hand scissoring and dematting, we have the expertise to handle it all. Our goal is to make your dog feel comfortable and at ease throughout the entire grooming process.
Nail Trimming and Paw Care
Nail trimming is an essential part of your dog's grooming routine, and we understand that it can be a daunting task for both you and your furry friend. Let our team take care of it for you! We will carefully trim your dog's nails, ensuring they are at a safe and comfortable length. Additionally, we offer paw care services such as paw pad trimming and moisturizing to keep your dog's paws healthy and happy.
The Ultimate Self-Wash Experience
We're thrilled to introduce our state-of-the-art self-wash station, open 7 days a week from 8 am to 8 pm! Now, you have the opportunity to shampoo, condition, and blow dry your dog all in one convenient location for prices starting as low at $10. Our self-wash station is equipped with everything you need to make your dog's bath time a breeze; from premium bathing products to professional-grade dryers, we have thought of every detail to ensure the ultimate self-wash experience.
We understand the importance of finding a reliable "dog grooming near me" service. That's why Unleashed Academy is conveniently located in Spokane Valley, WA. Our salon is easily accessible, making it hassle-free for you and your furry companion to visit us. Whether you're a local resident or just passing through, we welcome all dogs with open arms.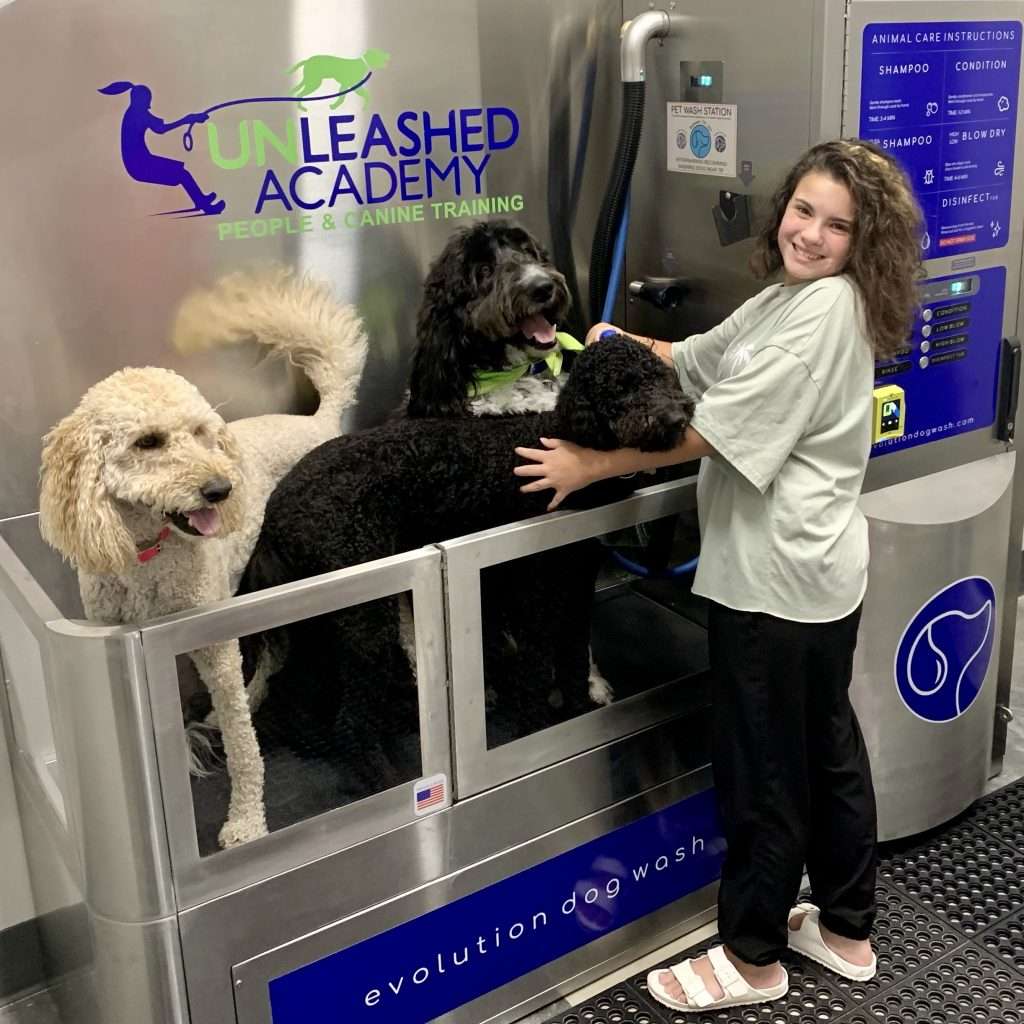 Give your pup a spa treatment with our state-of-the-art dog wash! Shampoo, Condition and Blow Dry all in one place! Pricing starts at $10.
Self-wash is open 7-days a week, 8am-8pm. No appointment necessary.
Book Your Appointment Today!
At Unleashed Academy, we are passionate about providing the best grooming services for your four-legged family member. Trust our team of professionals to give your dog the love and care they deserve.
Contact us
today to book an appointment or to learn more about our grooming services. We can't wait to meet you and your furry friend!